Specification:
- 7 m x 1.5 m Solar RC Blimp (Uniblimp type)
- Volume up to 10 m3
- RC safety valve on top of the envelope
- Envelope material Polyurethane 100 microns white UK quality
- Double welding technology
- Helium permeability 0.5 to 1% on total volume maximum daily – guaranteed
- 4 stabilizers with ailerons
- 1 low stabilizer reverse motor (left/right control)
- 1 horizontal stabilizers reverse motors (up/down control)
- 1 main motor positioned on the nose
- Solar cells Flisom Switzerland flisom.com
- On-board Smart charger/distributor
- 6 s Battery 2 x 6000 mAh
- 420 kv Hacker A-60 brushless motor (Hacker Brushless motor)
- Master Mezon ESC 120 A (120 ESC)
- Futaba (Futaba Rx/Tx)
- Rest related to the Blimp
- Useful payload up to 1.5 kg (Additional payload on a fully set Blimp)
- Status Ready to fly - All included except helium
- Maximum speed - up to 50 km/h
- Air time in-definitively (under normal flight conditions)
- Temperature conditions -15 to 55 Celsius
- Flight range with Futaba 14 SG up to 4 km
- Flight ceiling up to 300 m from start point
Status: Ready to fly (Tested prior to delivery) - All included except helium
Production time: around 30 days due to high custom complexity and our current production schedule
Price: 10.930 Euro / 12.229 USD
FedEx (Transport): price depending on destination
Payment method: 50% to start, 30% during production and 20% when finished prior to delivery
Note: export value (transport papers are at 20% value)
10 m Solar RC Blimp
10 m Solar is a single front engine Solar powered RC Blimp (Airship). Designed to fly until sufficient sunlight with especially designed intelligent power distributor. Able to carry Sony with gimbal or other similar weight cameras or other camera solution. It has a single front strong brushless motor, back reverse motors, Stabilizers with ailerons and bases for camera rig, batteries and electronics. Depending on your needs it can be delivered with Futaba, few miles range, or with DMD 20 km range. Autopilot is optional for this model/size.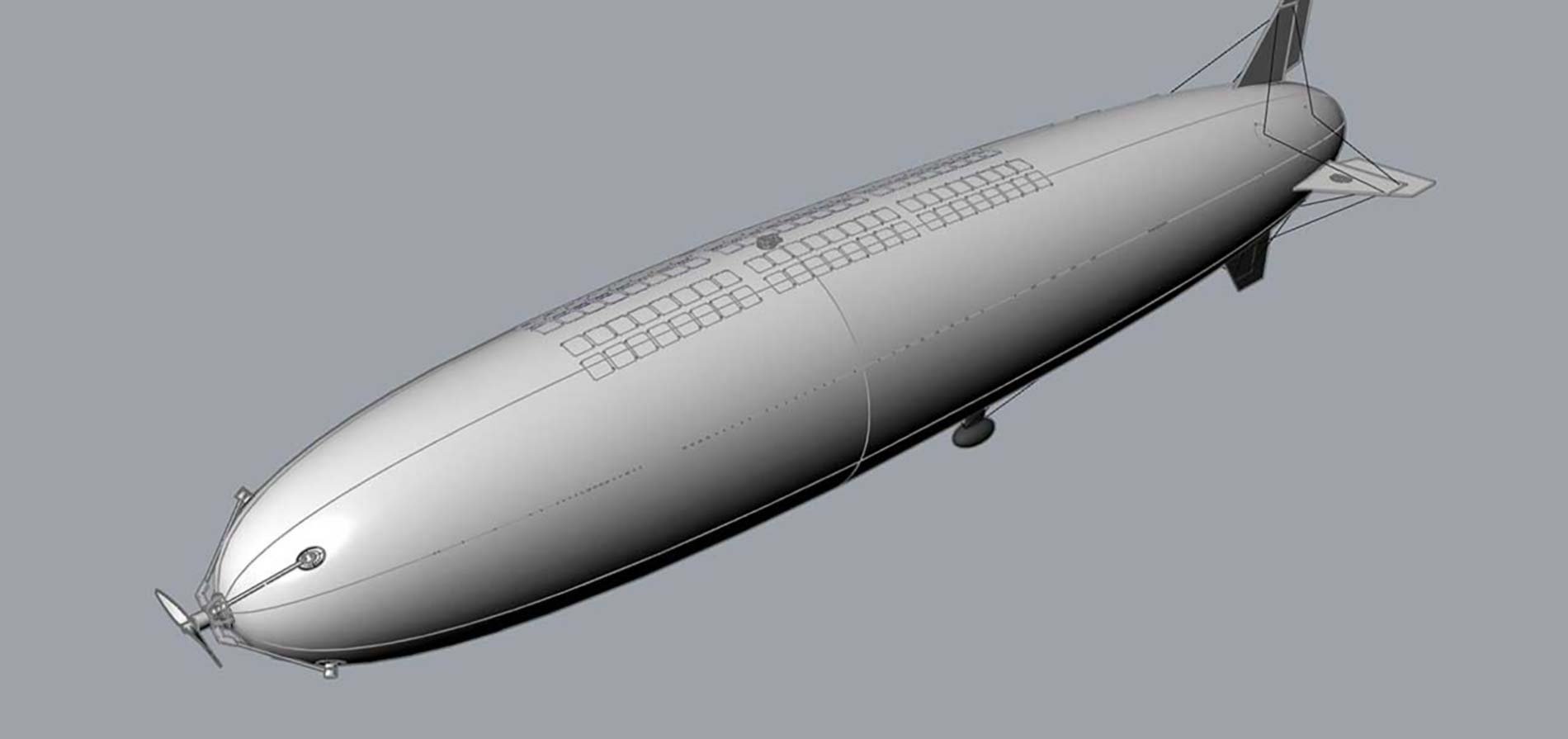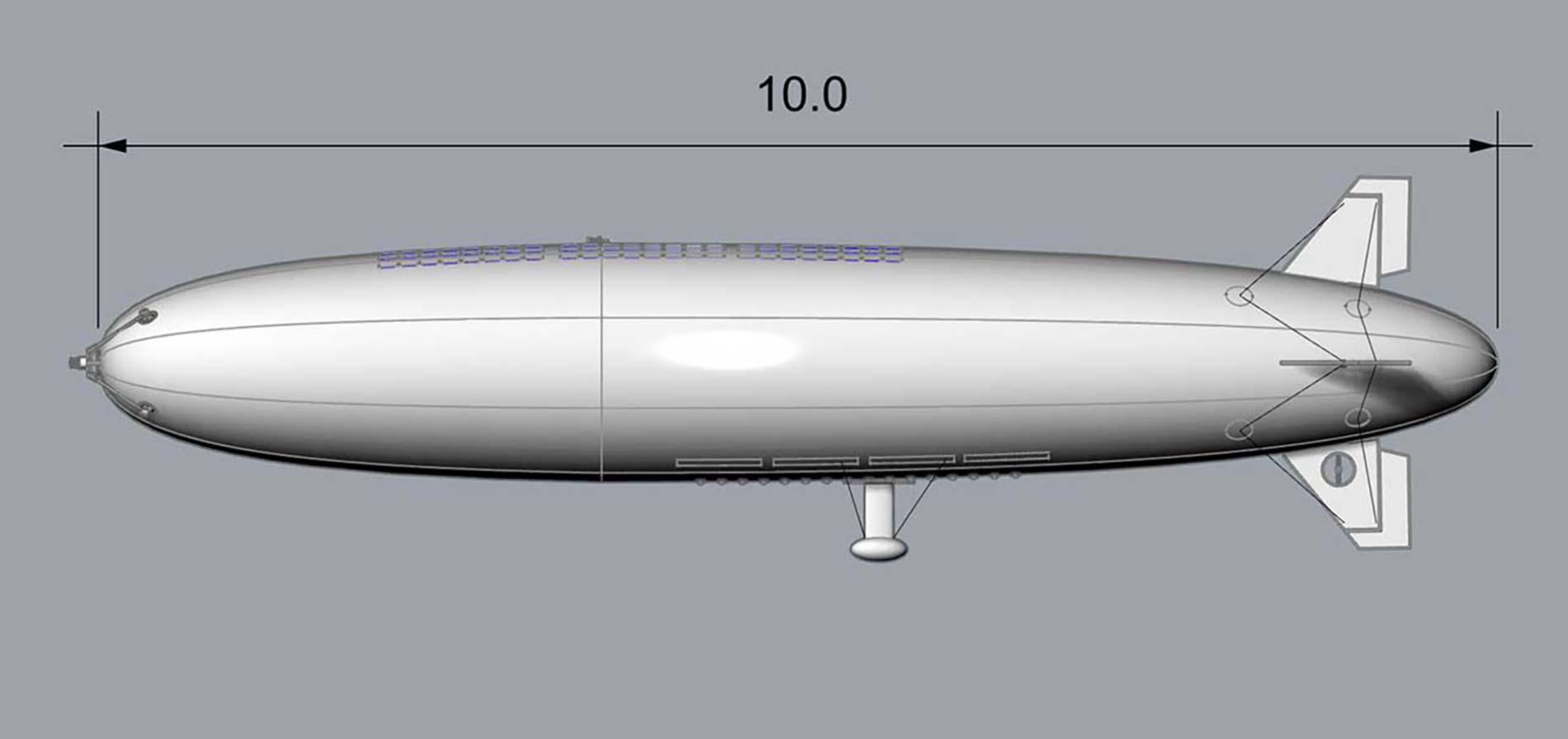 Specification:
- 10 x 1.7 m (UniBlimp type)
- Volume 17 m3
- Envelope Area 46 m2
- Envelope material Polyurethane 125 microns white UK quality
- Double welding technology
- Helium permeability 0.5 to 1% on total volume maximum daily - guaranteed
- RC Safety valve
- RC safety bobbin
- Solar cells Flisom Switzerland flisom.com
- 4 stabilizers with ailerons
- 1 low stabilizer reverse motor (left/right control)
- 2 horizontal stabilizers reverse motors (up/down control)
- 1 main motor positioned on the nose
- Pitchler or Hackler flat design main motor shop.pichler.de or www.hacker-motor-shop.com
- Carbon 23 to 25 inch propeller
- Battery and control electronics compartment 3D printed
- Main motor mount 3D print and aluminum combination
- 4 x 6000 mAh 5S LiPo batteries (2 groups by 2 batteries)
- 4 to 6 groups of solar cells on top of the Blimp
- On-board battery charger and battery charge controller
- Smart electronic controller to switch battery packs (charge/use)
- Futaba 14 SG (Futaba Rx/Tx)
- Rest Blimp and equipment related accessories
- Status Ready to fly - All included except helium
- Useful payload up to 2.5 to 3.5 kg (Additional payload on a fully set Blimp)
- Maximum speed - up to 50 km/h
- Air time in-definitively (under normal flight conditions)
- Temperature conditions -15 to 55 Celsius
- Flight range with Futaba 14 SG up to 4 km
- Flight ceiling up to 300 m from start point
Status: Ready to fly (Tested prior to delivery) - All included except helium
Production time: around 30 to 45 days due to high custom complexity and our current production schedule
Price: 27.340 Euro / 30.594 USD
FedEx (Transport): price depending on destination>
Payment method: 50% to start, 30% during production and 20% when finished prior to delivery
Note: export value (transport papers are at 20% value)