Details
5 m outdoor RC Blimp is the minimum for outdoor flying. Meaning that the envelope have enough lift to set stronger motors, more battery power, composite ... fins with ailerons, heavier electronic components,... This model can lift up to 1.2 kg and have our revised and updated original "rail system" where you can move the motor mount as well as the payload (camera rig) in the exact gravity center of the Blimp. All controls are double guaranteeing that at least one will fork for sure. Double welding technology for the polyurethane envelope is ensuring that the helium permeability is as low as possible - 0.5% max on total volume daily. This particular model is the first choice for University and Institute projects worldwide especially for new autopilots testing and other prototyping and experiments as well as to enter the outdoor Blimp experience. The 5 m RC Blimp is in production more than 15 years with regular improvements due to advance of digital technology and better building films and materials. Several dozen are flying all around the world today. Typical setting*: Polyurethane envelope, 1 main vectored motor or classic with 2 vectored motors, and 1 left–right back motor, all electronics, aluminum–carbon motor mount, simple Futaba, Graupner or Spektrum 10 channels RC, filling hose 5 ft (1.5m) special adapter to the envelope valve, 6000 – 8000 mAh Lithium-Polymer battery for the main motor and 3000 – 5000 mAh for the system and back reverse motor, 17 ft tether line Ready to go except for the Helium!
*We reserve the right to alter the setting accordant to new available electronics and technologies to make better quality RC Blimps.
Compliant to FAA and EASA Drone and Blimp Safety Regulations: The 5 m RC Blimp has all safety design features. Protected propeller housings, high quality envelope that can stand much higher internal pressure than needed, extremely low helium permeability, RC Safety valve, RC Safety bobbin, and other properties related. More at SAFETY REGULATIONS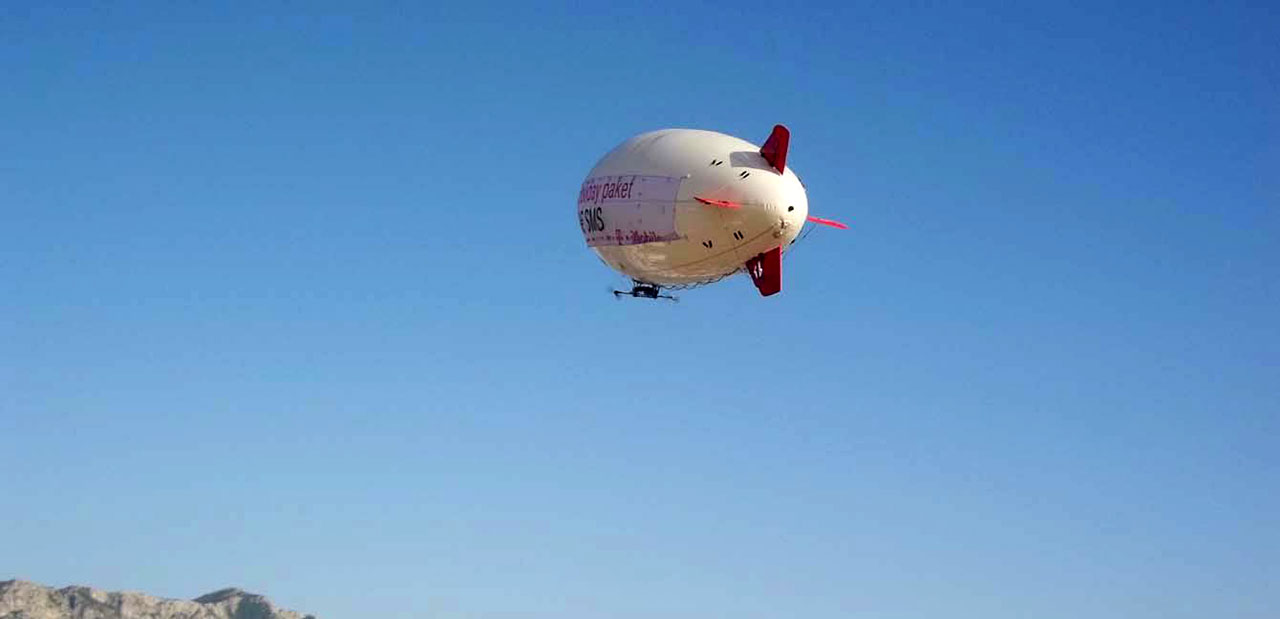 Optional
- Internal RGB Light with light generator and IR controller – 220 Euro ⁄ 260 USD*
- Dropping mechanism - 70 Euro ⁄ 85 USD*
- Art Work Airbrush print on the envelope 2 sides - 300 Euro ⁄ 320 USD*
Production time: 15 to 20 days. Transport (Not in price) by FedEx or specified by the client. Logo needed in .eps or .cdr or other print friendly format.