Details
Advertising and remote sensing ideal flying carrier, with 14 m3 it is strong enough to lift all needed setting and additional 2.5 kg of payload of ...any kind. Our originally designed and lately revised "rail system" with connection points in parallel at every 150 mm allows move-able gravity point. You can move the motor mount and your payload on it at will – forward or back – this way ensuring that the blimp have great flying maneuverability. Flight autonomy with fully charged batteries is around 60+ minutes or more depending on the wind and piloting style. Unlike drones of all sorts, hovering is natural to blimps, and that attribute can prolong air time significantly. Another option: instead of hanging a payload the batteries can be doubled in parallel – so double flight time! Used mostly by Video filming professionals and by Universities and Institutes for remote sensing equipment of all kinds. Equally fit for outdoor advertising with spacious sides to apply logos or graphics. It will be noticed either way!
A result of 20 years of work on LTA's, the 7 m RC Blimp, together with experienced RC pilot, will surely accomplish every expected task. Typical setting*: Polyurethane envelope, 1 main vectored motor or classic with 2 vectored motors, and 1 left⁄right back motor, all electronics, aluminum⁄carbon motor mount, Futaba, Graupner or Spectrum 10 channels RC, filling hose 5 ft (1.5m) special adapter to the envelope valve, 4.000 to 10.000 mAh Lithium-Polymer battery for the main motor and 3.000 to 5.000 mAh for the system and back reverse motor, 17 ft tether line. Ready to go except for the Helium!
*We reserve the right to alter the setting accordant to new available electronics and technologies to make better quality RC Blimps.
Compliant to FAA and EASA Drone and Blimp Safety Regulations: The 7 m RC Blimp has all safety design features. Protected propeller housings, high quality envelope that can stand much higher internal pressure than needed, extremely low helium permeability, RC Safety valve, RC Safety bobbin, and other properties related. More at SAFETY REGULATIONS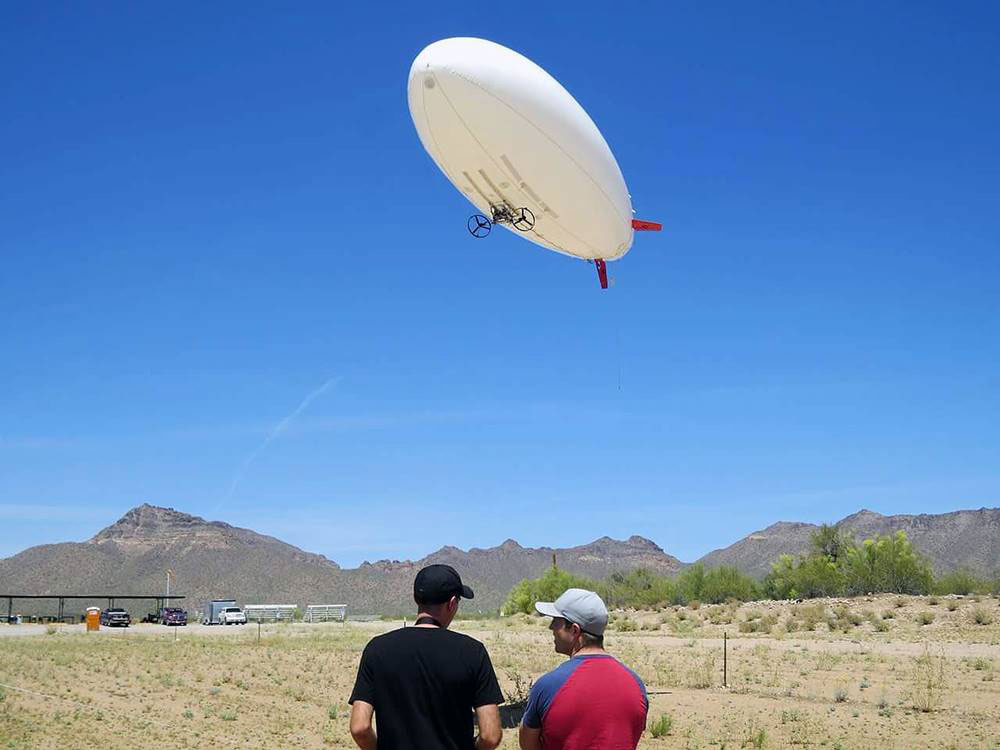 Optional
- Internal RGB Light with light generator and IR controller – 250 Euro ⁄ 330 USD*
- Dropping mechanism – 70 Euro ⁄ 85 USD*
- Art Work Airbrush print on the envelope 2 sides - 420 Euro ⁄ 450 USD*
Production time: 20 to 25 days. Transport (Not in price) by FedEx or specified by the client. Logo needed in .eps or .cdr or other print friendly format.