Details
12 m outdoor RC Blimp is a culmination of more than a decade of intensive and dedicated work on previous RC Blimps of various sizes. The growing need for payload and airtime resulted in a design ... of a 12 m RC Blimp that can carry 3 to 4 kg and have a 60+ minute's flight time. To assure previously stated we have developed side vectored motors in carbon fiber housing. This way the lateral drive force is giving much more stability to the ship. Besides original lateral motors we have developed several safety sets requested by German officials to enable the airship to pass the registration process. Such as RC Safety valve, RC safety bobbin, detached back battery, new "rail system", and several new and improved designs.
The initial spark to actually start the work on it was a request for TVN Germany. Their request was maneuverability on North German winds, clear bottom of the blimp for HD cameras and air time. Consequently we offered and built an airship with side positioned motors. The result is that the 12 m Airship can fly on winds up to 15 km⁄h and wind gusts up to 20 km, achieve max speed of 60 km⁄h and still be able to hover when needed. It was used on many occasions across Germany and other countries fulfilling the requested task with no remarks.
With our 12 m RC Blimp you can be sure that you are going to be noticed and that the job will be done. We strongly recommend that an expert RC pilot control the airship during flight. Typical setting*: 125 microns Polyurethane envelope, Double welding technology, 2 vectored motors side positioned in carbon fiber housings, 1 left⁄right back motor, all electronics, Composite fins with ailerons, UBEC for the receiver, RC Safety valve (2x), RC safety bobbin, Futaba, Graupner or Spektrum 10 channels RC, filling hose 5 ft (1.5m) special adapter to the envelope valve, 30000 mAh Lithium-Polymer battery for the main motor and 5000 mAh for the system and back reverse motor, 17 ft tether line and other high quality components. Ready to fly except for the Helium!
*We reserve the right to alter the setting accordant to new available electronics and technologies to make better quality RC Blimps.
Compliant to FAA and EASA Drone and Blimp Safety Regulations: The 2 m RC Blimp has all safety design features. Protected propeller housing, high quality envelope that can stand much higher internal pressure than needed, extremely low helium permeability and other related. More at SAFETY REGULATIONS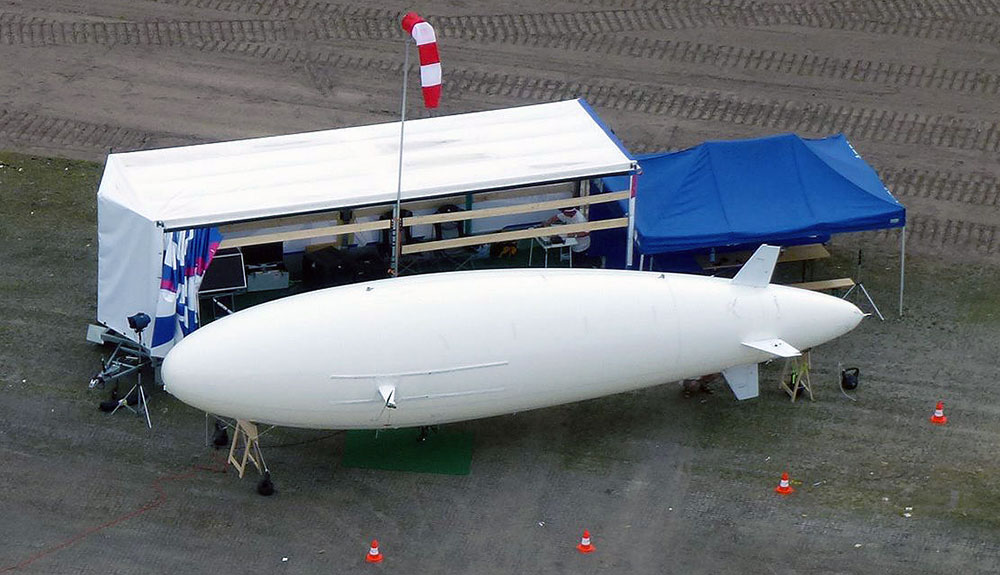 Optional
- Internal RGB Light with light generator and IR controller – 450 Euro ⁄ 520 USD*
- Dropping mechanism – 100 Euro ⁄ 115 USD*
- Art Work Airbrush print on the envelope 2 sides - 870 Euro ⁄ 950 USD*
Production time: 35 to 45 days. Transport (Not in price) by FedEx or specified by the client. Logo needed in .eps or .cdr or other print friendly format.